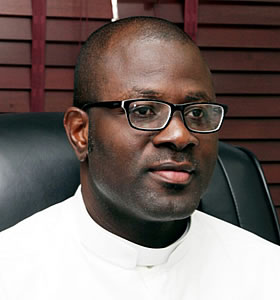 St. Gregory's College was founded on 27th January, 1928 by the Catholic Archdiocese of Lagos through the instrumentality of Bishop Ferdinand Terrien for the purpose of giving young boys a holistic education that is built on two pillars – fear of God and sound knowledge of all there is to know. This explains the motto of our beloved College Pro Fide et Scientia (For faith and knowledge).
In faithfulness to the vision of the Catholic Archdiocese of Lagos, the Management of the College since inception, has constantly placed the highest premium on these core values. On these pillars rest the source and summit of our College and of all who are associated with it.
In St. Gregory's College, we hold dear the words of Francois Rabelais that "A child is not a vessel to be filled, but a fire to be lit". In order to effectively achieve this goal, our daily quests and undertakings include giving our students a solid spiritual foundation, developing their potentials, helping them to be competitive and bold, creating an exciting environment for them, encouraging them to be independent thinkers, building their sense of self-esteem, ensuring their voices are heard and guaranteeing their health and wellbeing.
Our curriculum serves as a bedrock for this goal because it offers our students opportunities to soar in any sphere of life that they choose and wherever they choose. We equip students to study anywhere in the world after their graduation by preparing and offering them opportunities to sit for local and international examinations. And in a world where computer technology has taken the center stage, our students are well grounded in the prerequisite knowledge that puts them ahead of their peers in the world of computer technology. They graduate from St. Gregory's College with exceptional knowledge and ability in Coding and Robotics.
After more than ninety years of a fruitful existence, St. Gregory's College has come to be known globally as one of the foremost formation grounds for young men who are destined to make the world a better place. Our holistic formation gives our students the added advantage that makes them outliers. Their practically enriched academic curriculum is driven by the moral formation that makes it integral. Our enviable landscape makes learning, acquisition of skills and sporting activities worthwhile.
We welcome all who visit our College website. We are sure you will find helpful and important information about this great institution of learning. This site will give you a glimpse of what St. Gregory's College is all about and how you can be a part of our success story.
Thank you.
Rev. Fr. Emmanuel Ayeni
Administrator.